Meet Tasya
Tasya Herskovits is a vocal sound healing practitioner, song midwife, community organizer and ritual guide who supports individuals and communities in working with pain and trauma through voice, song and nature connection.  She completed the Sound, Voice and Music Healing program at CIIS and the IAST training with Malidoma Somé in 2015, and has been studying various aspects of the healing arts for 14 years.
First inspired by studying herbal medicine with Michael Moore at the Southwest School of Botanical Medicine in 2003, her connection with the plant world continues to deeply influence her orientation towards health and wellness.  As Tasya endeavors to create spaces that encourage the integration of deep human expression in daily life, she is grounded by the work of elders such as Joanna Macy who see our struggles as an entry point to healing and divine expression.  She first started "sounding" with Joshua Tree based elder Charlyn, and will always be grateful for the gentle and powerful way that Charlyn guided her as she began to actively heal through voice and sound.
Tasya holds deeply the belief that celebrating our voices is our inherent human right and a crucial tool for renewing our relationship with self, others, and the places we inhabit.  She is passionate about vocal empowerment, especially for those who have been marginalized and silenced. 
With music and dance as her most natural and authentic forms of communication, she habitually enters into and creates spaces where people can converse in the ancient language of movement and sound.  She is humble and grateful to live in a place where these type of interactions are regularly possible.  When not around people, she often seeks the places where wild foods grow in abundance, and the dark starry nights and the birdsong filled mossy landscapes of Wy'east and other nearby mountains.  She holds a BA in Educational Psychology.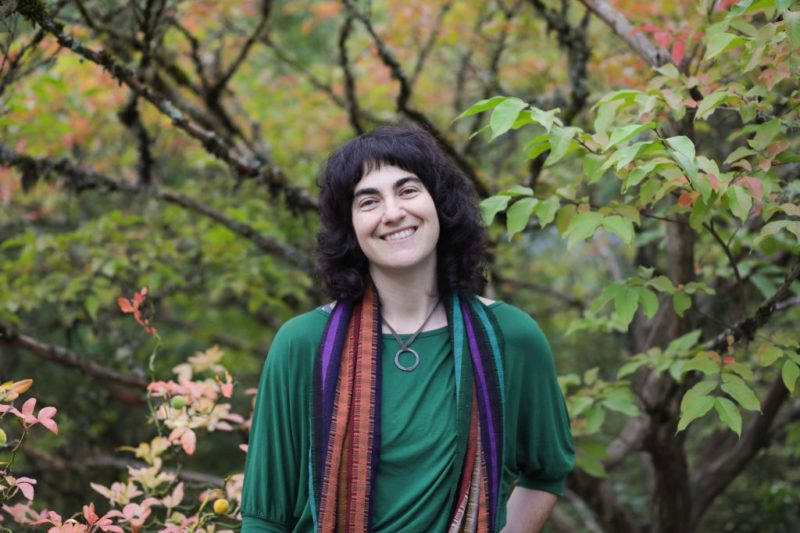 Testimonials
"I am so grateful to have gotten to experience a sound healing session with Tasya.  Working with the sounds of the bowl and the tank drum, along with the expression of our voices, touched far deeper places than I had ever anticipated.  Tasya's gentle,
compassionate guidance created a safe place for me to open my voice and also to allow for deep emotions to arise. I felt a big opening and a beautiful loving healing around the piece I was working with.  If you've been curious about sound healing, I
highly recommend working with Tasya."
-Dalia Perez
"I sit here singing and sitting in meditation, feeling ever so blessed to have had
the opportunity to work with Tasya. For a brief moment my sadness was
overwhelming and I started to cry thinking of someone I had lost. Instead of
letting that loss overwhelm me I remembered my voice. I remembered the
comforting feeling of its texture. I remembered what it was like to be held in the
space that Tasya created for me to explore what my own song feels like, sounds
like. This is a gift that everyone deserves to experience at least once in their life."
-Jennifer Kane
"In working with Tasya I connected with a strong yet tender part of myself. From playful to grieving, I felt safe to unravel and let my voice come through. Her support looked differently as our session progressed, but I always felt safe to be curious with her compassionate presence. As a result of working with Tasya, I feel a greater sense of freedom in my voice and expression."                 -Edna Garcia
Gratitude for my teachers.
Thank you for helping me open my mind, my voice, and my heart.
Whether I got the chance to work with you in person, or whether I simply read your words or heard your voice from afar, I am deeply grateful. The way you have danced your path ahead of me has cleared more space for me to walk mine.
Medicine Melodies
I welcome you to listen to some Medicine Melodies that I recorded.  This one was inspired by the sound of a Varied Thrush and the rooted feel of the deep redwood forests.